WOMEN'S ONLY WEEKEND (WOW): April 11-13, 2014
WOW is a Catholic Women's Retreat filled with faith, relaxation and a bit of recreation. While the retreat is housed at Camp Rancho Framasa we have partnered with the staff at the Benedict Inn Retreat Center to explore the theme of personal prayer using journaling, meditation & art.
Depart from the hurriedness of everyday life, for a few days this spring to pull back, unplug and recharge. Camp is the perfect setting for you to connect with yourself, God and friends.
Fee: $150 for the weekend. Age requirement: Women must be 21 and older to attend.
Spiritual
Mass
Spiritual Direction Sessions
Guest Speaker
Day Break Prayer
Relaxation
Massage
Morning Strech
Wine Tasting Social
"Alone Time" (as needed)
Recreation
Canoeing
Crafts
Climbing Wall & Giant Swing
Archery

About the weekend...
It is our hope that women will be able to use this weekend as a break from the "busyness" of life and find this retreat a place to connect spiritually and with friends. A schedule of activities will be available and led by camp staff throughout the weekend. Participants can move from activity to activity at their leisure. Participants are free to make their own schedules, making it as busy or as slow as needed. There are ample opportunities to be social and be alone as well. Participants will sleep in shared heated cabins and dine in the dining hall.
The Camp Schedule
Friday
Arrival: 7:30-8 pm
Arrival & Move in : 8-8:15 pm
Wine Tasting Social: 8:30
Dinner is not served this evening, please eat before
arriving.
Saturday
Breakfast: 8 am
Scheduled Activities: 8:45-11:45 am
Lunch: 12 pm
Scheduled Activities: 1:30– 5:15 pm
Dinner: 5:30 pm
Mass: 7:00 pm
Evening Program: 8:00– 9:30 pm
Sunday
Breakfast: 8:00 am
Scheduled Activities: 8:45 am-11:15 am
Closing: 11:30 am
Lunch: 12:00
Camp Store Open: 12:30-1:30
Departure: 2:00 pm
A detailed schedule of the weekend will be given upon arrival.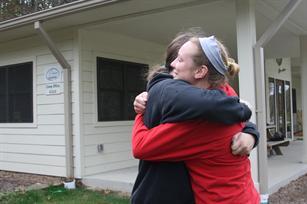 join our email LIST
for exclusive news!